09 juin 2009
Pas un dessin du jour, mais juste une envie de m'entrainer à la mise en couleur dessus...
Not a drawing of the day, but just a desire of to involve with the setting color above…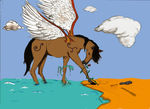 Elfe...
Elf...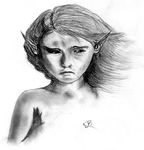 Voila, ce n'est pas vraiment comme j'aime dessiner, mais je ai fait sur un coup de tête. Cela représente un enfant pauvre, mourant de faim.
This isn't like to draw, but I made on a flash idea. That represents a poor child, dying of hunger.
Ce dessin est une vieille idée qui était dans ma tête depuis longtemps, il n'est pas parfait, un jour peut être je le referais mieu.
This drawing is an old idea which was in my head for a long time, it isn't perfect, one day can be I would remake it better.